Harvey Mudd College Chooses Smart Growth
November 14, 2013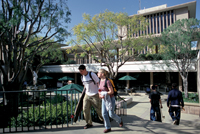 In a world hungry for solutions that Harvey Mudd College graduates can offer, educating and producing even more graduates may seem the logical choice. Yet developing innovative, socially responsible problem-solvers takes a unique environment, one that Mudders value.
So protecting this culture proved integral to a Nov. 1 decision to boost Harvey Mudd's student body size to as many as 900 students over the next decade.
"As with any complex, long-term issue facing the College, the discussion on growth planning has been both challenging and incredibly rewarding," said board of trustees Chair Wayne Drinkward '73.
The College's board of trustees voted unanimously to endorse the growth plan
during its annual November retreat. Trustees heard presentations and reports reflecting faculty, student and alumni views on the growth proposal. Concerns raised included the proposed growth's impact on the College's distinct culture—particularly, its Honor Code, teaching and sense of community—the availability of resources, such as additional faculty and housing to support a larger student body, and the need for an improved process for mission-critical decisions.
Trustees deliberated for several hours before voting to move forward with the growth plan.
"The board's decision was not made lightly and it was clear that the concerns raised were considered. The trustees are aligned to ensure that any growth is done right—with a commitment to improved communication, preservation of the College's culture and the availability of the necessary resources to support growth," said Glen Hastings '93, president of the Harvey Mudd College Alumni Association.
The approved proposal calls for an assessment at the five-year mark to evaluate the growth's impact on the College culture and core values, before continuing with the final stage of the plan. The board also approved a study to build a new dorm, and the College is actively seeking student input on the project. Members of the board's Budget and Financial Planning Committee will review a proposal outlining recommendations for enhancing academic resources.
"We are thankful for everyone's thoughtfulness, patience and willingness to share their concerns honestly and openly," Drinkward said. "It is our hope now that everyone will work together to ensure that a Harvey Mudd education is available for generations of students to come."