Young Scholars Treated to Day of Science
April 18, 2013
About 100 fourth- and fifth-graders enjoyed a day of fun and science activities April 6 during Science Day at Harvey Mudd College.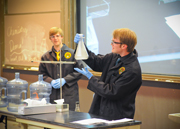 Students, parents and teachers from San Antonio Elementary, Vejar Elementary, Barfield Elementary School and Harrison School attended the free, annual event, which features science workshops led by HMC Science Bus program student volunteers.
"Our goals were to get kids excited about science and to expose them to a college campus experience," said Priya Donti '15, who co-chaired Science Day along with Ji Su Lee '15 and Aarthi Sridar '15. "We wanted to show them learning doesn't always take place in the form of a textbook or a whiteboard. It can be hands on, interactive and lots of fun."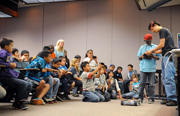 Participants engaged in a variety of science experiments, demonstrations and hands-on activities, including:
Speakers (creating a mini-speaker using electromagnets)
Puff Mobiles (building an air-propelled car)
Optical Illusions
The event also featured a chemistry demonstration by HMC students Devon Stork '15, Will Ferenc '13 and Grant Ukropina '13, and a robotics demonstration by engineering Professor Chris Clark.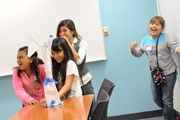 The Science Bus program started in 2006 under the leadership of Bob Schaffer, a visiting professor that year in the HMC Department of Engineering. The program coordinates student volunteers—from across The Claremont Colleges—who visit local elementary schools to deliver hands-on science lessons. The lessons often include a demonstration, an experiment and a discussion.
Program volunteers strive to build positive associations with science so that more young men and women—especially from underrepresented groups—will be encouraged to pursue higher education and careers in the scientific disciplines.
Science Day is made possible through the efforts of the program's student volunteers, along with HMC's faculty and staff.