HMC Dorms Compete for Energy Savings
March 6, 2013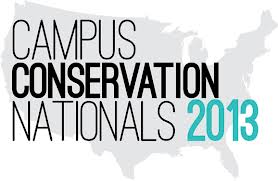 Harvey Mudd College students are switching off lights and taking shorter showers in an effort to nab first place in a nationwide collegiate energy-savings contest.
For the first time in its history, The Claremont Colleges Power Down Competition will team with Campus Conservation Nationals (CCN) for a nationwide college and university campus electricity and water reduction competition.
"We're joining more than 200 other schools and 991 participating buildings to meet a combined goal of 2 million kWh saved. At the end, CCN will list the top five reducing schools and the top five group challenge reducers," said Ginny Routhe, Pomona College assistant director of sustainability, facilities and campus services, who is coordinating the energy contest with student groups across the five Claremont undergraduate colleges.
The contest, which started Feb. 25 and ends March 16, challenges students to reduce their energy consumption while competing at three levels: HMC dorms will compete against each other, HMC as a whole will compete against the other four Claremont undergraduate colleges, and the 5-Cs will compete nationally as a unit against other college "group challengers" across the country.
The school with the highest energy reduction among The Claremont Colleges will be awarded the Green Cup, a paper-mâché, compact fluorescent lamp. The HMC winning dorm prize is being kept a surprise. The prize for the national winner will be "pure bragging rights," said Routhe.
Dorm energy usage is being monitored by each campus' facilities and maintenance department, and the competition standings are being posted to an online dashboard.
"Mudders are turning off more lights, unplugging appliances, playing less music on their speakers and taking a number of other measures," said Priya Donti '15, co-president of HMC's Engineers for a Sustainable World/Mudders Organizing for Sustainability Solutions (ESW/MOSS), which co-sponsored the event with student environmental clubs at Pomona and Claremont McKenna colleges and the Redford Conservancy at Pitzer College.
In the first week of the contest, HMC dorms achieved energy savings ranging from 2.2 percent to nearly 44 percent, placing the College in the lead spot in the 5-C level of the contest.
Throughout the competition, the colleges will hold events—including a jam session in the dark and a screening of the energy documentary Switch—to remind students to conserve and to educate them about sustainability issues.