Harvey Mudd College Launches $150 Million Fundraising Campaign
February 19, 2014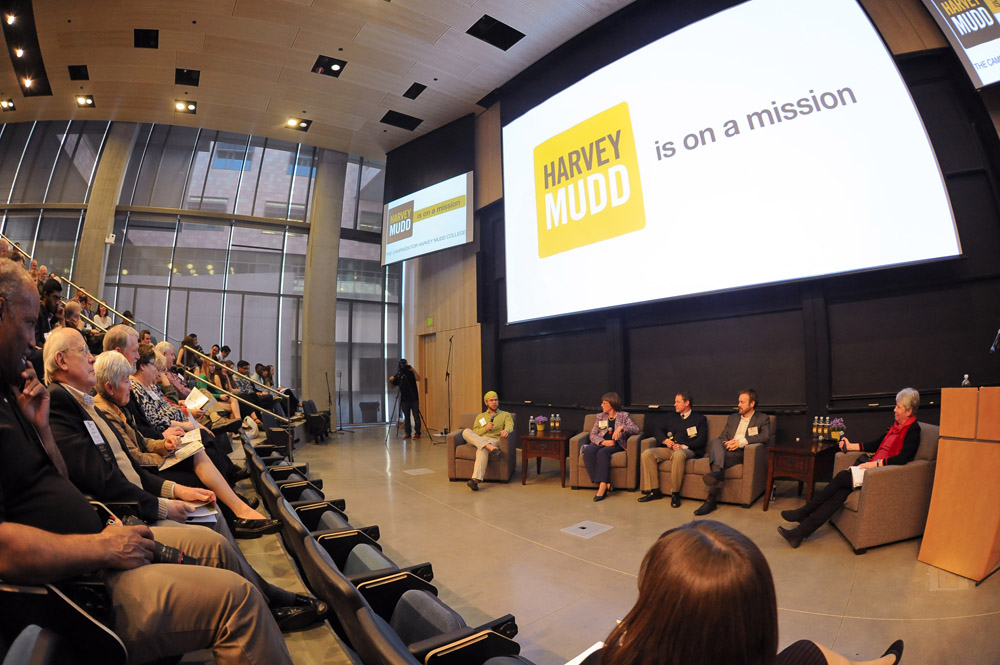 Harvey Mudd College, a leading innovator in science, engineering and mathematics undergraduate education, has launched a $150 million comprehensive campaign.
"Harvey Mudd is on a mission," said President Maria Klawe. "We seek to fund the people, programs and places that will allow us to ensure that a steady stream of passionate problem solvers is available to address the most pressing issues of our time."
The Campaign for Harvey Mudd College, the largest in the College's history, seeks to expand and strengthen the College's renowned undergraduate science and engineering education—an innovative, interdisciplinary and hands-on educational experience that includes a unique commitment to humanities, social sciences and the arts. The campaign will also enable the College to share its innovative practices with others to improve STEM education nationally.
"There is no question this nation needs more students preparing for and graduating from science and engineering disciplines," said board of trustees and campaign Chair Wayne Drinkward '73.
The campaign will further the College's strategic vision, developed in 2006 by the College community. The strategic vision comprises six themes: Innovation, Leadership and Impact, especially in Engineering, Science and Mathematics; Experiential and Interdisciplinary Learning; Unsurpassed Excellence and Diversity; Nurturing and Developing the Whole Person; Global Engagement and Informed Contributions to Society; and Infrastructure to Support Excellence and Build Community.
"As the research shows, students learn best in an environment that promotes active learning, gives them plenty of experiential opportunities, focuses on developing their writing, their communications skills, their working in teams, and their ability to reflect on what they've learned," said Kerry Karukstis, Ray and Mary Ingwersen Professor of Chemistry. "Those are the hallmarks of a Harvey Mudd education."
Fundraising priorities include:
Funding new endowed faculty positions to support the broad and rigorous curriculum
Expanding experiential learning opportunities through both on- and off-campus activities, in the United States and abroad
Increasing funding for annual and endowed student scholarships so that any admitted student can attend Harvey Mudd, regardless of personal financial ability
Bolstering funding for Harvey Mudd's community engagement efforts, some of which help prepare students from underrepresented groups for careers in science and engineering fields
Expanding artistic and musical events at the College and supporting student extracurricular activities, such as art, music and athletics.
Improving and expanding the College's infrastructure, including the construction of a new residence hall and academic building
The College has already raised $102 million in gifts and pledges during the leadership phase of the campaign.
"Scientists and engineers have more impact than anyone else in the world," said senior physics major Luke Mastalli-Kelly. "However you also need to understand the kind of impact you are going to have. By not only looking at the impact of our own work, but also by channeling and influencing the work of those around us, we can disproportionately make the world a better place. And I know of no other institution that produces people with that specific set of skills with the regularity that Mudd does."