Annual Giving Leadership Society
The Annual Giving Leadership Society was established in effort to recognize those donors who generously support Harvey Mudd annually with gifts totaling $1,000 or more. Young alumni who have graduated within the last 10 years have a special opportunity to be a part of this society by supporting Harvey Mudd with an annual gift of $500 (alumni five to nine years out) or $250 (alumni up to four years out).
Annual Giving Leadership Society Levels
Annual Giving Leadership Society donors are recognized at the following named levels:
President's Circle:$20,000+
Gold Level:$10,000 – $19,999
Silver Level:$5,000 – $9,999
Copper Level:$1,000 – $4,999
Young Alumni Copper:$500 (5–9 years*), $250 (1–4 years)
While all gifts are important to the College, Leadership-level gifts account for over 90 percent of all Annual Fund dollars raised. They make a significant difference every year in supporting the greatest needs within the College's annual operating budget. AF gifts play an instrumental role in the College's mission to educate engineers, scientists and mathematicians well versed in all of these areas and in the humanities and the social sciences so that they may assume leadership in their fields with a clear understanding of the impact of their work on society.
Please note that matching gifts are included in the recognition of Leadership-level giving. (For example, a personal gift of $500 plus a $500 corporate gift matching received during the same fiscal year places a donor in the Copper Level ($1,000) of the Annual Giving Leadership Society.)
On behalf of the Harvey Mudd community, we express our sincere thanks.
Questions?
If you have questions about whether your gift qualifies for inclusion as part of the Annual Giving Leadership Society, please contact the Office of Annual Giving at annualgiving@hmc.edu.
Rod and Cathy Kusch P19,
Parent Leadership Council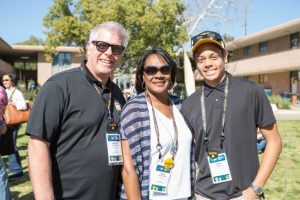 "We've enjoyed watching Ryan flourish in the Harvey Mudd community, and especially appreciate the support he's received from its tight-knit, collaborative community, where he's made some wonderful connections! Overall, we've found great comfort that Ryan's been able to use the resources that the school provides for academic help and career services (e.g., resume writing, setting up a LinkedIn account, etc.).These opportunities and resources have been extremely valuable, leading to incredible internship opportunities. We are very grateful that Harvey Mudd places an importance on these and many other student services."
Kathy French '97,
Alumni Association Board of Governors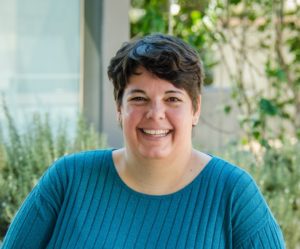 "My life and career continue to be enriched by the HMC reputation. I received an amazing education that was made possible thanks to donors in the mid 1990s, so it is my turn to pay that forward and help the current and next generations of Mudd students. My unrestricted support of HMC today is my way of helping the College maintain, and where possible improve, its rigor and excellence to be even better than what I experienced."