Hoch-Shanahan Dining Commons
The Hoch-Shanahan Dining Commons was built in 2005 over the location of the Horace Bell Pool (Bell was the grandfather of Virgina Kingston, Victoria Mudd's mother), on land originally acquired from Scripps College.
Designed by NTD Architects, the building was built to meet the criteria of the U.S. Green Building Council's (USGBC) Leadership in Energy and Environmental Design for New Construction (LEED-NC) Green Building Rating System. The dining commons is the second facility at Harvey Mudd College certified under the LEED-NC system (the first was the Frederick ('64) and Susan Sontag Residence Hall). LEED-NC is a voluntary, consensus-based national standard for developing high-performance, energy efficient, environmentally friendly, sustainable, "green" buildings.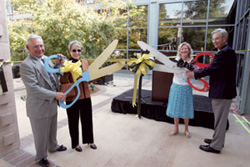 This state-of-the-art dining facility was named for trustees Richmond J. Hoch '63 and his wife, Diane, and R. Michael Shanahan and his wife, Mary (shown right at the building dedication in 2005).
The Hochs have supported the college for two decades and Dick has been a member of the Board of Trustees since 1998. The Hochs established the Alfred B. Focke Memorial Endowed Scholarship in honor of Harvey Mudd physics professor Alfred Focke.
In addition to their gift for the dining commons, the Shanahans have supported a variety of initiatives, including annual scholarships and the creation of the following funds and initiatives: the R. Michael Shanahan Family Endowed Scholarship, Shanahan Endowed Dean of Faculty Chair, Shanahan Endowed Student-Directed Projects Fund and other special projects. They recently pledged $25 million to the college, HMC's largest gift.
The dining commons, offering more than 28,000 square feet, features open exhibition kitchen areas, seating for nearly 500, a state-of-the art pizza oven and a rotisserie oven for juicy, tender meats.
Home to the Aviation Room, which celebrates the College's former Bates Aeronautics Program and its graduates, the commons also offers five private dining rooms, two dining patios, supporting kitchen and storage spaces, along with office space and locker rooms for the 50 employees who prepare meals and serve more than 1,600 diners each day.