President Harriet B. Nembhard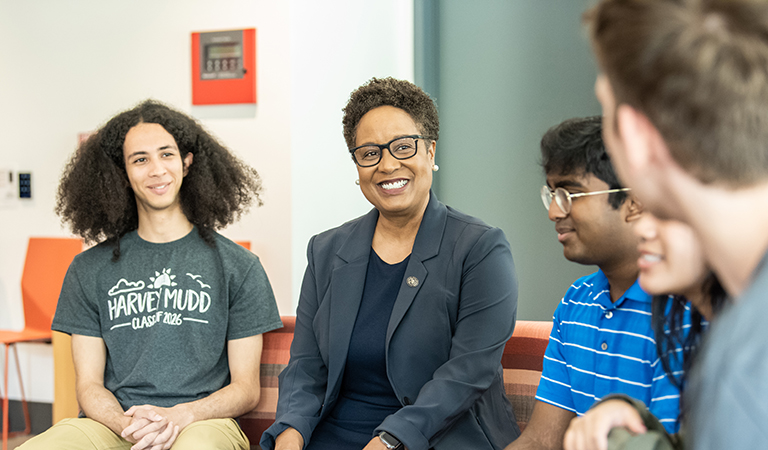 Harriet B. Nembhard, a nationally recognized leader in the field of industrial and operations engineering, began her tenure as Harvey Mudd College's sixth president on July 1, 2023.
Nembhard came to Harvey Mudd from the University of Iowa, where she was dean of the College of Engineering. In that position, Nembhard managed a budget of $100 million and oversaw the academic programs, departments and institutes that supported 1,802 undergraduates and 283 graduate students. She led initiatives in strategic planning and implementation, improving the college's research profile and increasing diversity, equity and inclusion.
She has held academic leadership positions at Oregon State University and The Pennsylvania State University, where she was the founding director of the Center for Integrated Healthcare Delivery Systems, an interdisciplinary research institute that uses applied statistics and operations research to improve the efficiency and quality of healthcare delivery to patients.
Nembhard is also a voice on the national level for transforming undergraduate STEM education. Her research into co-curricular STEM education and its role in undergraduate identity formation received National Science Foundation funding, and she was invited by the National Academies of Sciences, Engineering, and Medicine to serve as a member of their joint roundtable on advancing change in undergraduate STEM education.  
Nembhard began her college career at 16, studying management-engineering at Claremont McKenna College and industrial engineering at Arizona State University, before attaining her PhD in industrial and operations engineering at University of Michigan. She recognized her early interest in engineering management by the types of questions she asked as a child to her father, a pilot, when they visited airports. She was curious about how the luggage made it to the right airplane, how flight crews were assigned and why smaller airplanes were parked on the side of the airport. In short, asking systems questions at a young age.  
That interest in systems engineering led to a life of scholarship in applied statistics and operations research in which Nembhard has taken a multidisciplinary approach to improve complex systems across manufacturing and healthcare. Her work has led to many advances including simulation tools for assessing emergency department patient flow, improved manufacturing processes for medical devices, and a sensor-based system to conduct early screening of Parkinson's disease. These contributions helped improve quality of care for thousands of patients and framed a ground-breaking co-authored textbook, Healthcare Systems Engineering.
She is widely published in leading professional journals, has served in several journal editorships, and has mentored numerous students and faculty. Many of her former PhD students and post-docs hold significant positions in industry and academia around the world.