History of the Presidency
Maria M. Klawe, 2006–2023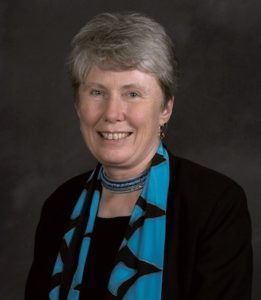 Maria Klawe began her tenure as Harvey Mudd College's fifth president in 2006. A renowned computer scientist and scholar, President Klawe was the first woman to lead the College since its founding in 1955. Prior to joining HMC, she served as dean of engineering and professor of computer science at Princeton University. Klawe joined Princeton from the University of British Columbia where she served as dean of science from 1998 to 2002, vice president of student and academic services from 1995 to 1998 and head of the Department of Computer Science from 1988 to 1995. Prior to UBC, Klawe spent eight years with IBM Research in California, and two years at the University of Toronto. She received her PhD (1977) and BSc (1973) in mathematics from the University of Alberta.
Klawe has made significant research contributions in several areas of mathematics and computer science, including functional analysis, discrete mathematics, theoretical computer science, human-computer interaction, gender issues in information technology and interactive-multimedia for mathematics education.
Klawe is a renowned lecturer and has given talks at international conferences, national symposia, and colleges across the U.S. and Canada about diversity in science, technology, engineering, and mathematics disciplines and industries, gender and gaming, and lessons from her own career in STEM industry and education. She has devoted particular attention in recent years to improving K-12 science and mathematics education.
In 2023, Klawe became president of Math for America (MƒA), an organization dedicated to transforming the teaching of math and science by building and supporting communities of master STEM teachers. She also is a member of the boards of Phenome Health, EdReports and the Simons-Laufer Mathematics Institute in Berkeley. She is a fellow of the American Academy of Arts & Sciences.
Klawe is the recipient of the 2014 Women of Vision ABIE Award for Leadership and was ranked 17 on Fortune's 2014 list of the World's 50 Greatest Leaders. In 2015 she was honored with the Lifetime Achievement Award from the Canadian Association of Computer Science and the Achievement Award from the American Association of University Women, and she was inducted into the US News STEM Solutions Leadership Hall of Fame. She was honored by the Computing Research Association's 2016 Distinguished Service Award. In 2017, she was awarded the Academic Leadership Award from the Carnegie Corporation of New York. Recognized by the alumni association with a Lifetime Recognition award in 2023, Klawe is president emerita and trustee emerita of Harvey Mudd College.
Jon C. Strauss, 1997–2006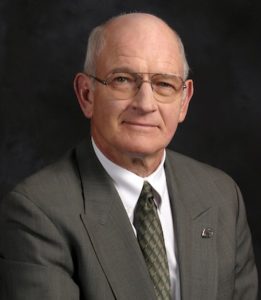 Jon C. Strauss joined the Harvey Mudd College community as president in 1997 with an impressive array of experiences in administration, finance and education in technology and the sciences.
Prior to his appointment as HMC president, Strauss was vice president and chief financial officer at the Howard Hughes Medical Institute in Chevy Chase, Maryland. He served as president of Worchester Polytechnic Institute (WPI) in Worchester, Massachusetts from 1985 to 1994.
He also served as vice president and professor of engineering at the University of Southern California and vice president for budget and finance and director of computer activities and professor of computer and decision sciences at the University of Pennsylvania.
Strauss earned his bachelor of science degree in Electrical Engineering from the University of Wisconsin, a master's in Physics from the University of Pittsburgh, and his PhD in electrical engineering from Carnegie Institute of Technology.
During his time at Harvey Mudd, the College experienced a number of changes, among them its reclassification by the Carnegie Foundation as a liberal arts college given the institution's mission. Also, Strauss created an Ad Hoc Planning Committee, which was viewed as a critical step in strategic planning to help the College better align with the needs of society at the turn of the new millennium. During his presidency, the College launched the Dr. Bruce J. Nelson '74 Distinguished Speaker Series, endowed in memory of Nelson by his family, as an important way to enrich campus intellectual life. The speaker series continues to this day.
Also, during Strauss' tenure, the College's endowment doubled and more money was raised than at any comparable period in the history of the College to that point. In addition, participation in the College's study abroad program more than tripled and three new buildings were completed: Linde Activities Center, Sontag Residence Hall, and the Hoch-Shanahan Dining Commons. The College renovated residence halls and Jay's Place, further demonstrating Strauss' commitment to students' comfort and the quality of campus life. Under his leadership, the College also would go from being need-aware for 40 percent of admitted students to being need-blind for all students.
The College's Office of Institutional Diversity was created during the Strauss presidency with money raised from the James Irvine Foundation. During his leadership, the College also would create its Blueprint for Diversity. The percentage of women students would grow from the low 20 percent to 33 percent and the enrollment of underrepresented minority students would roughly double as a fraction of the student body.
After leaving Harvey Mudd College, Strauss enjoyed a brief retirement before returning to higher education, most recently serving as interim president of Paul Smith's College in New York.
Henry E. ("Hank") Riggs, 1988–1997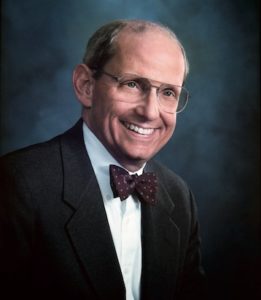 Henry E. ("Hank") Riggs served as president of Harvey Mudd College and was the former vice president for development at Stanford University and the founder and first president of Keck Graduate Institute in Claremont.
Riggs had a remarkable career as entrepreneur, professor, writer and leader in higher education. He continually sought out challenges and his vision fundamentally shaped every institution with which he was involved. Throughout his life, his abiding passion was for teaching, and he taught up until a few weeks before his death. He will be remembered for his immense talent, enduring vision, uncompromising integrity and enormous generosity.
After graduating from Stanford in 1957 and Harvard Business School in 1960, Riggs worked as president of Icore Industries and chief financial officer of Measurex Corporation. He began teaching part-time at Stanford in 1967 and joined the faculty full-time in 1974. His best-known course at Stanford was Industrial Accounting (IE 133). From 1978 to 1983 he was chair of the Stanford Industrial Engineering and Engineering Management Department. He held the Thomas W. Ford professorship in the school of engineering. In 1980, he received Stanford's highest award for excellence in teaching (the Walter J. Gores Award). As he biked through campus to class, he cut quite a figure in his suit and signature bow-tie.
Riggs was named president of Harvey Mudd College in 1988. During his nine years as president, the College expanded its campus, increased enrollment and endowment, and launched new departments in biology and computer science. He and his wife, Gayle, enriched the Harvey Mudd community through a very personal care and commitment to each constituency, strengthening the bonds of the College community. Each received the Harvey Mudd Alumni Association's Honorary Alumni Award in 1997, and Riggs received an honorary doctorate from the College in 2006.
Riggs' early career as a Silicon Valley entrepreneur left him convinced that colleges and universities need to be more flexible and entrepreneurial to serve their students and the public good. In 1997, he founded the seventh Claremont college, the Keck Graduate Institute of Applied Life Sciences (KGI). He served as the institution's first president until 2003. His vision for KGI was based on his belief that life sciences would dominate the 21st century and that new institutions were needed to educate future leaders in this field.
Riggs wrote books and articles on accounting, management and finance for students and the general public. His influential 2011New York Timesop-ed "The Price of Perception" challenged the practices by which top-tier colleges set tuition rates. He also served on numerous corporate and nonprofit boards.
In his personal life Riggs had two great loves: his family and travel. He and his wife, Gayle, saw much of the world from their bicycles and Eurovan. At age 70, Riggs bought his first boat, "It's About Time," and became a skilled captain. Five years later, he solo-captained his boat to Alaska and back.
Riggs was raised in Hinsdale, Illinois, the youngest child of Joseph and Gretchen Riggs. He met Gayle Carson when they were both undergraduates at Stanford and they married in 1958. He died at his home in Palo Alto on June 10, 2015 after a brief illness.
Kenneth Baker, 1976–1988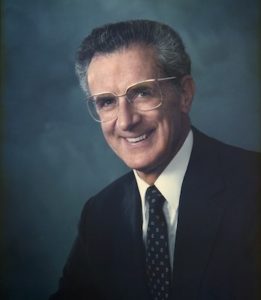 Kenneth Baker became the second president of Harvey Mudd College in 1976 following Founding President Joseph B. Platt, who served for two decades. During his 12 years at the helm, Baker was instrumental in increasing the College's enrollment, facilities and prestige, and guiding the College as technical innovations and social changes occurred. He oversaw the acquisition of land and property to meet major campus needs, which included upgraded laboratories and construction of additional housing (Atwood and Case residence halls), allowing all students to be housed on campus at the time.
Additional accomplishments that occurred during Baker's tenure included work to establish the Biology and Computer Science departments, the computer "wiring" of the HMC campus (the first college campus in California to be completely wired), the naming of the Department of Chemistry as best undergraduate chemistry program in the nation by the Higher Education Research Institute, the addition of two endowed chairs in the Humanities and Social Sciences department, the growth of the endowment from $5 million to $50 million, and the graduation of the College's 2,000th graduate.
It was during Baker's tenure that several notable HMC pranks occurred, including the infamous Caltech Cannon heist in 1986, which Baker referred to in his book "Harvey Mudd College: The Third Decade Plus" as "the most audacious and clever prank known to me in my time in higher education." Baker and his wife, Vivian, both HMC Honorary Alumni, lived all 12 years on campus in the Garrett House, where they hosted many campus community events.
Born in Glasgow, Scotland, on October 2, 1923, Baker was the son of the late David Thomas and Edith (Horner) Baker. His father was an iron worker that fled Scotland in 1929 during the depression and immigrated to Canada, leaving the family behind until he could find work. His mother, Baker and a brother followed six months later and established a humble home from which the family prospered. Following his high school graduation, Baker attended McMaster University where he received a bachelor's degree in physics and chemistry. During this period, Baker met the love of his life, Vivian, and continued his education at the University of Pennsylvania, earning his PhD in physics. He and Vivian were married in 1947, during his graduate education. They purchased a home in 1953 in Schenectady, NY, where Baker worked at Union College teaching physics. He worked summers in Schenectady as the director of the National Science Foundation Summer Institute, and spent a year abroad as a visiting lecturer at the University of St. Andrews, in St. Andrews, Scotland. He also spent a summer in New Delhi, India, as the program leader for the Agency for International Development at the University of New Delhi.
He continued his career at St. Lawrence University as vice president and dean of students from 1967 through 1976. His career culminated at Harvey Mudd College in Claremont, Calif., where Baker held the position of college president. During these California years, Baker continued to sit on numerous advisory boards, including the advisory council for the Los Angeles Council of Engineers and Scientists, and the advisory committee of the Institute for Advancement of Engineering, which he chaired in 1982. He served as president of the Association of Independent Engineering Colleges from 1979 to 1982, and advised the Math Science Task Force for the California Roundtable on Educational Opportunity in 1984-1985. In his retirement, Bakersaton the board of directors of the Sound Shore Fund, and was an active member of what was then the PEW Foundation.
Baker was an avid sportsman who lettered in basketball, football and track in his high school and college years. He built a sailboat at age 16 to perfect his sailing skills and, later in life, developed a love of skiing (which he did well into his late 70s), skating, ice hockey and enjoying other outdoor activities. However, from the time Baker was a young boy, golf was his favorite pastime. His father's passion for the game was passed on to Baker and both of his brothers. Baker was a lifetime member of Crystal Downs Country Club (an Alistair MacKenzie Design, in Frankfort, Michigan), where he served as president of the golf course, overseeing a variety of projects, including the construction of a new clubhouse, maintenance barn and driving range.
He retired in 1988, to summer in North Carolina. He spent his winters golfing in North Carolina, and summers golfing in Michigan, while enjoying the company of his grandchildren and family.
Baker also had a lifelong association with the Congregational Summer Assembly in Frankfort, an area he was first introduced to by acquaintances from Union College. He had a cottage shell erected in 1960, which was completed by himself and his sons over the next 10 years. The summer cottage was the family's center and has been enjoyed by his family for the past 50 years.
Baker is survived by his wife of 64 years, Vivian Baker of Ithaca; a son, Rick (Kathy) Baker of Trumansburg; two grandsons, Jacob Baker of Ithaca and Nathan Baker of Trumansburg; and, a brother, Gordon (Lou) Baker of Hamilton, Ontario. In addition to his parents, Ken was preceded in death by a son, Paul Baker; a grandson, Ian Baker; and, a brother, Ronald Baker.
Baker died Sunday, January 29, 2012, at his home in Ithaca, NY. He was 88.
To learn more, download the book: Harvey Mudd College: The Third Decade Plus, 1976-1988
Joseph B. Platt, 1956–1975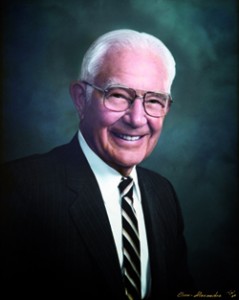 Joseph B. Platt served more than half a century in Claremont as the first president of Harvey Mudd College from 1956 to 1976 and the eighth president of Claremont Graduate School and University Center (now Claremont Graduate University) from 1976 to 1981.In 1981, Platt returned to HMC as senior professor of physics, where he would teach until he was in his 90s.
Born in Portland, Oregon, he grew up in Rochester, New York and attended East High School before entering the University of Rochester in 1933. It was there that he was mentored by Lee A. DuBridge, who later became president of Caltech and a lifelong friend and colleague of Platt's.
After graduating from the University of Rochester with honors in physics in 1937, Platt continued his studies at Cornell University, earning a PhD in 1942 (his doctoral thesis focused on the structure of metallic potassium). At the University of Rochester, he taught physics and helped develop night vision optical devices for use during World War II. He spent most of World War II at the radiation laboratory at MIT, where he put his knowledge of radar devices to practical use for the United States Air Force. At MIT, he worked on classified projects, including a microwave adaptation of a British beacon system for blind bombing by aircraft.
In 1945, Platt met Jean Ferguson Rusk, his future wife. At the time, Rusk, a mathematician, was employed by Polaroid, where she helped develop the company's trademark Land camera system. The two were married in 1946 after Platt was reappointed as an assistant professor of physics at the University of Rochester, where he worked for most of the decade. During this time, he went on leave to serve the Atomic Energy Commission as chief of the physics branch, research division. Upon his return to University of Rochester, Platt became professor of physics and worked on the design and construction of a 240-million-volt synchrocyclotron. He also directed a research team that produced mesonic atoms identifiable through x-ray spectra. During his tenure, he was named outstanding teacher by the Rochester Alumni Association.
Platt left Rochester in 1956 to become founding president of a "then non-existent" Harvey Mudd College. With the atomic age in full swing, the space age just beginning, and the computer age in sight, Platt greeted with excitement the offer to head up HMC, which opened in September 1957 with seven faculty members, 48 students, three administrators (including Platt) and one dormitory—the only building on campus.
By the end of his first decade as president, nearly 300 students were studying under 43 faculty members, and the school had produced 257 graduates. When Platt stepped down in 1976 after 20 years at the helm, about 1,000 students had graduated from HMC.
For his dedicated years of service, Platt received the first Henry T. Mudd Prize in 1992, named for the longtime board chair and generous HMC benefactor who was the son of Mildred and Harvey S. Mudd. Platt continued to teach physics into his 90s at HMC. He died July 10, 2012 at the age of 96 at his home in Claremont.
To learn more, download the book: Harvey Mudd College: The First Twenty Years