Questions Relating to Health and Wellness
Please contact the Office of Health and Wellness (OHW)
The Claremont Colleges is offering 7C Health, a 24/7 telehealth option for students powered by TimelyMD. Through no-cost virtual visits and student focused physicians and counselors, students at Harvey Mudd College can receive help for physical and emotional well-being concerns. 7C Health can address physical health symptoms such as cold and flu, strep, bacterial infections, ear infections, bruises, sprains, and mono. The average wait time for these medical and mental health appointments are 5 minutes. For TalkNow which allows students to speak to counselors, there is also a 5-minute average wait time and a 30 minute average visit. Students now also have the option to schedule counseling sessions with the same provider for up to 12 sessions.
To access the 24/7 medical and mental telecare, download the TimelyMD mobile app or visit 7C Health. You will be prompted to create a profile and register with your HMC email address. From there you will select the type of care you are looking for. These visits are free for students and can be accessed anywhere in the world. For more information, please visit 7C Health.
On Campus Confidential Counseling through MCAPS
Please contact Monsour Counseling and Psychological Services:
Phone: 909.621.8202
Location: Tranquada Student Services Center, 1st Floor
Hours: Monday–Friday, 8 a.m.–5 p.m.*
*For after hours emergencies, please contact Campus Safety at 909.607.2000.
Assistance Paying For Mental Health Services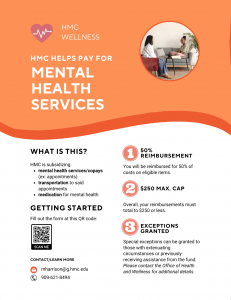 HMC helps pay for mental health services.
What is this?
HMC is subsidizing:
mental health services/copays (e.g. appointments)
transportation to said appointments
medication for mental health
Getting Started
Submit a reimbursement request
Limits and Exceptions
You will be reimbursed for 50% of costs on eligible items.
Overall, your reimbursements must total to $250 or less.
Special exception can be granted to those with extenuating circumstances or previously receiving assistance from the fund.
Contact/Learn More
Please contact the Office of Health and Wellness for additional details.
mharrison@g.hmc.edu, 909.621.8494.
Alcohol and Other Drugs (AOD) Resources
The Office of Health and Wellness is committed to reducing the negative impact of alcohol and other drugs while cultivating a healthy learning environment where HMC students can thrive. To find information and resources, please visit the AOD Resources page.
5C Support Resources
Disability Accommodations
Please contact the Office of Accessible Education:
Email: ability@hmc.edu
Phone: 909.621.8125
Location: Platt Center; Division of Student Affairs (East Wing)
Hours: Monday–Friday, 8 a.m.–noon, 1–5 p.m.
Resources for Asian Americans
Please contact the Asian American Resource Center for:
Asian American Mentor Program
Service and leadership opportunities
Leadership development
AARC Contact
International Students
Please contact the International Place for:
General resources for issues faced by international students and scholars
Assistance with new arrival necessities
International student/scholar programs
Black Student Affairs
Please contact the Office of Black Student Affairs for:
Academic support
Ambassador mentoring
Leadership development
Cultural programming
Student engagement
Career advising
OBSA Contact
Queer Resource Center (QRC)
Please contact the Queer Resource Center for:
Drop in hours with QRC staff*
Ally training
Free STD testing
Speakers Bureau
QRC Contact
*See website for drop in hours.
Reporting Sexual Harassment
Please contact the Title IX Coordinator for:
Report cases of sexual harassment
Title IX Contact
Project Sister Crisis Hotline
Please contact the Project Sister Crisis Hotline for:
Confidential information and referrals
Project Sister Contact
Project Sister Family Services
Please contact Project Sister Family Services (on-campus resources) for:
free confidential counseling and aftercare
Project Sister Family Services Contact
Dr. Nancy Arzate
Phone: 909.607.0690
Location: 1030 Dartmouth Ave.
Hours: Tuesday, 10 a.m.–4 p.m. by appt.; 4–6 p.m. walk in
Office of Institutional Diversity (OID)
Please contact the Office of Institutional Diversity for:
Social justice education
Identity development
Issues related to Diversity
OID Contact
Office of the Chaplains
Please contact the Office of the Chaplains for:
Pastoral counseling, spiritual formation and crisis intervention/management
Worship services and religious observances
Opportunities for community service, reflection, and dialogue through the Multifaith Service Council and collaborative social justice programs
Chaplains Contact
Student Health Insurance
All enrolled students at Harvey Mudd are required to have health insurance, whether through their home (family) insurance or through The Claremont Colleges. Every student is automatically enrolled in The Claremont Colleges' Student Health Insurance Plan (SHIP) at the beginning of each academic year; it is the student's responsibility to opt out of this coverage by providing proof of comparable coverage by the posted deadline. The cost to access the Student Health Center is the same for either private insurance holders or those with The Claremont Colleges' policy.
Private Insurance Coverage
If students are already covered by an insurance policy and would like to waive SHIP, the online Health Insurance Waiver form must be submitted before September 13, 2022.
All international students will be required to enroll in SHIP
The Claremont Colleges' Health Insurance Policy (SHIP)
SHIP may be purchased through The Claremont Colleges. For 2022–2023, this annual policy will cost $2,868.00. Access information about the plan aetna or check out the 2022-2023 Student Health Insurance Plan Highlights. Opens in new tab. Access your medical insurance ID card Print ID Card.
Coverage for first-year students will run from Aug. 1, 2022–July 31, 2023.
Coverage for returning students will run from Aug. 1, 2022–July 31, 2023.
Students will be automatically enrolled unless they submit a waiver before September 13, 2022. Listed below are dates when you will be able to access the waiver portal.
Returning students: Available now
Incoming students: Available now
For returning students, information submitted the previous year has been saved. Students will need to reconfirm their healthcare information and resubmit the waiver. Waivers must be submitted every year.
For incoming students, an announcement email from SHIP with a waiver link will arrive in students' hmc.edu email inbox. Students will need to have their Harvey Mudd student ID number to sign in. See the September 3rd deadline on the Orientation Deadlines page for more detailed information.
Questions should be directed to the Division of Student Affairs at 909.621.8125 or Kim Nykanen at knykanen@g.hmc.edu.
Student Resource Guide
Care Guide
Main Center for Student Health
Emergency Room Services
Non-Emergency Urgent Care