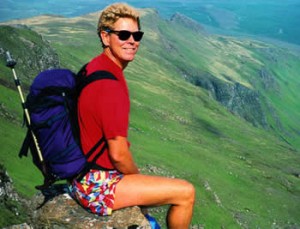 A brilliant technologist, great leader and gifted speaker, Bruce J. Nelson '74 was entirely unconventional and eclectic; a true free spirit, always pushing the edge in everything he did.
Everyone who knew Bruce seems to have an interesting story about him. Some anecdotes touch on his kindness and intelligence. Others draw on his fun-loving, uninhibited side, the part that rejected social constraints.
Friends from Harvey Mudd College vividly remember his passionate tirades against peas, as well as his many daring outdoor adventures.
Both his life and death had a tremendous impact on the many people whose lives he touched.
Bruce, an avid photographer, mountaineer, outdoorsman and world traveler who cherished the tranquility and wonders of nature, graduated from Harvey Mudd in 1974 with an independent studies program degree in computer science. He went on to earn a master's degree in computer science from Stanford University in 1976 and a doctoral degree in computer science from Carnegie Mellon University in 1981.
While pursuing his PhD, Bruce developed the Remote Procedure Call (a powerful technique for constructing distributed, client-server-based applications), for which he was awarded the prestigious Association of Computing Machines Software Systems Award.
At the time of his death, Bruce was chief science officer at Cisco Systems, where he guided the company's long-term strategies for technical development.