2022 Dr. Bruce J. Nelson '74 Distinguished Speaker Series
Climate Storytellers
The 2022–2023 Nelson series, "Climate Storytellers," will explore the power of storytelling to promote conversations about climate change and to inspire climate action. We know that the impacts of climate change are already bringing great harm to the most vulnerable in our societies. We are all beginning to experience the effects of a warming planet in heat waves, fires, droughts, and extreme weather events. We know that the scientific consensus is clear: emissions from industrial activity are to blame. And yet political action to reduce emissions and to prepare for our future feels frustratingly slow. Publishing increasingly comprehensive scientific reports isn't working. Neither is language and imagery designed to induce fear and panic. The speakers in this series are doing something different. Drawing on a range of experiences and expertise in the sciences and the humanities, each of our speakers will share how they use storytelling as a powerful tool of climate communication. We will learn how different kinds of stories can reach different audiences, with the goal of inspiring climate justice and climate action.
Admission to this public lecture series is complimentary.
Naomi Oreskes, April 17, 5:45 p.m.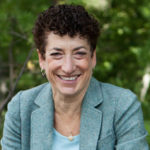 Naomi Oreskes is Henry Charles Lea Professor of the History of Science and Affiliated Professor of Earth and Planetary Sciences at Harvard University and a leading voice on the role of science in society and the reality of anthropogenic climate change. Oreskes wrote the Introduction to the Melville House edition of the Papal Encyclical on Climate Change and Inequality, Laudato Si, and her essays and opinion pieces on climate change have appeared in leading newspapers around the globe. She is author or co-author of seven books, and over 150 articles, essays and opinion pieces, including Why Trust Science? (Princeton University Press, 2019) and Science on a Mission: American Oceanography from the Cold War to Climate Change, (University of Chicago Press, 2021). Merchants of Doubt (Bloomsbury, 2010), co-authored with Erik Conway, was the subject of a documentary film of the same name produced by participant Media and distributed by SONY Pictures Classics, and has been translated into nine languages.
Ayana Elizabeth Johnson, November 2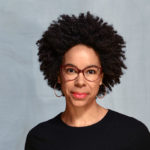 Marine biologist, writer and podcast creator Ayana Elizabeth Johnson uses the power of storytelling to inspire climate action. She is a marine biologist, policy expert, writer and Brooklyn native. She is co-founder of Urban Ocean Lab, a think tank for the future of coastal cities. She co-edited the bestselling climate anthology All We Can Save, co-founded The All We Can Save Project and co-created the Spotify/Gimlet climate solutions podcast How to Save a Planet. Recently, she co-authored the Blue New Deal, a roadmap for including the ocean in climate policy. Previously, she was executive director of the Waitt Institute, developed policy at the EPA and NOAA and taught as an adjunct professor at New York University.
Katharine Hayhoe, February 6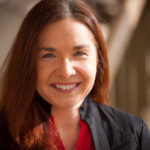 Katharine Hayhoe develops and applies high-resolution climate projections to evaluate the future impacts of climate change on human society and the natural environment. She has published over 125 peer-reviewed abstracts and publications and co-authored Downscaling Techniques for High-Resolution Climate Projections: From Global Change to Local Impacts (Cambridge University Press, 2021), and served as lead author on key reports for the U.S. Global Change Research Program and the National Academy of Sciences, including the Second, Third and Fourth U.S. National Climate Assessments. Her TED talk, "The Most Important Thing You Can Do About Climate Change: Talk About It" has received nearly four million views, and her new book (September 2021) is Saving Us: A Climate Scientist's Case for Hope and Healing in a Divided World.
Amitav Ghosh, March 20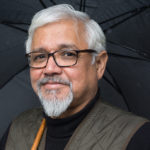 Award-winning writer of historical fiction, including Nutmeg's Curse, Amitav Ghosh was born in Calcutta and grew up in India, Bangladesh and Sri Lanka. He is the author of two books of non-fiction, including The Great Derangement: Climate Change and the Unthinkable (2016), a collection of essays, and ten novels, including Circle of Reason (1986), The Glass Palace (2000), his Ibis trilogy of novels, and Gun Island (2019). For his groundbreaking writing he has received the Prix Médicis étranger, the Sahitya Akademi Award, and the Arthur C. Clarke award to name just a few of many, and holds four honorary doctorates. His work has been translated into more than thirty languages and he has served on the Jury of the Locarno and Venice film festivals. In 2018 he became the first English-language writer to receive India's highest literary honor, the Jnanpith Award. His most recent publication is Jungle Nama (2021), an adaptation of a legend from the Sundarban, with artwork by Salman Toor.