2019 Dr. Bruce J. Nelson '74 Distinguished Speaker Series
Maker Cultures
Maker Cultures is about making and STEAM. The series is intended to inspire the Harvey Mudd community to create a culture for the new makerspace in the Scott A. McGregor Computer Science Center that is inclusive, creative, playful, sustainable and builds upon the College's liberal arts environment. Maker Cultures invites the community to think beyond traditional makerspaces that make tools and materials available in a dedicated space, to maker cultures that are mobile, use living materials, re-make with recycled parts and cross disciplinary boundaries.
Unless otherwise stated, lectures take place in the Auditorium, R. Michael Shanahan Center for Teaching and Learning.
Direct inquiries to the Office of Stewardship and Events at stewardship@hmc.edu or 909.607.1818.
Garnet Hertz, October 11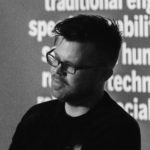 Canada Research Chair in Design and Media Arts
Associate Professor in the Faculty of Design and Dynamic Media at Emily Carr University
Hertz's art and research investigates DIY culture, electronic art and critical design practices. He has shown his work in 15 countries at several notable international venues, including SIGGRAPH, Ars Electronica and DEAF, and was awarded the 2008 Oscar Signorini Award in robotic art. He has worked at Art Center College of Design and University of California, Irvine. His research is widely cited in academic publications, and his work has appeared in the popular press worldwide, including The New York Times, Wired, The Washington Post, NPR, USA Today, NBC, CBS, TV Tokyo and CNN Headline News. Hertz earned a bachelor's degree (studio art) from the University of Saskatchewan and a master's degree (arts computation engineering) and PhD (visual studies) from the University of California, Irvine. Learn more about Hertz's work.
Both events will be held in the Green Room, Platt Campus Center. RSVP for lecture and workshop.
Lecture: "Design for Change: Critical Technical Practice and Protest through Electronic Objects"
Disobedient Electronics: Protest (2017) is a limited-edition publishing project by Garnet Hertz that highlights confrontational work from industrial designers, electronic artists, hackers and makers from 10 countries who disobey conventions, especially work that is used to highlight injustices, discrimination or abuses of power. Hertz will highlight the fascinating ways that creative electronic objects can be built as a form of engaging social commentary on complex topics like surveillance, gender and health.
Workshop: "Re-Imagining the Now"
Technological artifacts embody and reflect value systems that are deeply embedded within our culture, values that are often unseen or unacknowledged. Whether we are conscious of it or not, these artifacts provide material answers to questions of how to live and act in the world. This workshop will introduce a series of core techniques and ideas from critical design to think through digital technology's capacities and potentiality both as a corrective to its uncritical embrace and as a way to redefine the digital in daily life. Participants will use a set of custom-designed playing cards and playing mat to re-evaluate and re-invent the digital technologies around us. In the process, we will create a wide spectrum of technological imaginations in terms of indigenous, feminist and intersectional views of the world through digital technologies.The workshop begins at 1:30 p.m.
Ellen Jorgensen, October 16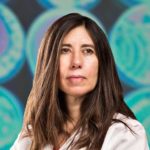 Lecture: "Biohacking and the DIYbio Movement"
Can grassroots innovation be applied to biology? That's the question asked by the DIYbio movement, which strives to democratize biotechnology through the creation of biomakerspaces open to the general public. The first biomakerspace opened in Brooklyn in 2010, and now there are community biolabs all over the world. What were the hurdles in creating this ecosystem of citizen scientists, and how has the movement evolved over the past ten years? Has the creation of these spaces really jumpstarted innovation? And what are the risks and benefits of amateur biology in this day and age of increasingly accessible technology?
Jorgensen is cofounder and chief science officer at Carverr, a biotech startup that safeguards supply chains and promotes sustainable practices by using biomolecules and probiotics to track and trace food and other products. In 2017, Fast Company magazine named her one of their Most Creative Leaders in Business. Jorgensen is passionate about increasing science literacy in both student and adult populations, particularly in the areas of molecular and synthetic biology. In 2009, she cofounded Genspace, a community biolab in Brooklyn that was named one of the World's Top 10 Innovative Companies in Education. She holds a PhD in cell and molecular biology from New York University and spent over 30 years in the biotechnology industry. She is a SynbioLEAP fellow, an alumni of the Amsterdam School of Creative Leadership THNK and a member of the GP-write consortium to construct a human genome. She recently founded the nonprofit Biotech Without Borders to help provide access to biotech education to all. Her TED talks, "Biohacking: You Can Do It Too" and "What You Need To Know About CRISPR" have each had over a million views.
DK Osseo-Asare, November 14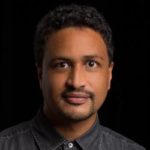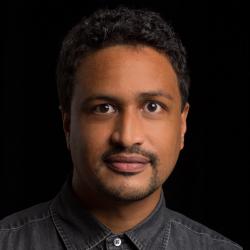 Assistant Professor of Architecture and Engineering Design, Penn State University
Co-founding Principal, Low Design Office
Osseo-Asare is cofounder and principal of architecture at integrated design studio Low Design Office (LOWDO), based in Austin, Texas, and Tema, Ghana. He holds a triple appointment in humanitarian materials at Penn State as an assistant professor of architecture and engineering design. He is a TED Global Fellow, Fulbright Scholar and Africa 4 Tech Digital Champion. He cofounded the design agency DSGN AGNC (2009–2011) and the Agbogbloshie Makerspace Platform, an open-source maker tech initiative geared for Africa. He also led urban/strategic design for the Koumbi City and Anam City new town projects in Ghana and Nigeria, which were featured at the Clinton Global Initiative (2012–2014). He has presented his work internationally at the Royal Institute of British Architects, University of Basel, TU Delft, TED Global, Smart City Expo, World Bank CitiSense, AfriDesignX, University of Ghana, Nelson Mandela African Institution of Science and Technology, Next Einstein Initiative/African Institute of Mathematical Sciences, MIT, Harvard, Columbia University and on BBC. Osseo-Asare received his bachelor's degree (engineering design) and his master's degree (architecture) from Harvard University, where he studied kinetic systems and network power.
"Making in the Open"
Technology now enables people to collaborate on the design and making of virtually anything in ever-larger groups organized in increasingly non-hierarchical fashion. The ways in which free and open-source software have transformed not only computer and mobile applications but also their design are revolutionizing how we co-create our physical environment and the constellation of products which populate our lives and world. At the same time that models of consumerism and planned obsolescence threaten our planet's climate and ecological dynamics, more and more people are demanding that we design better, more sustainable and more equitable paradigms for living together on Earth. What does making mean (what and how) in this new regime of open design and collaborative production? Osseo-Asare presents lessons learned making in the open at and around the Agbogbloshie scrapyard in Accra, Ghana, as he co-developed the Agbogbloshie Makerspace Platform—an open-source maker tech initiative geared for Africa—together with grassroots makers and 2,000 youth from West Africa, Europe and the United States.
Andrew Quitmeyer, November 21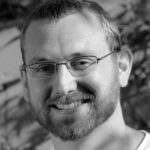 Co-Founder and Director, Digital Naturalism Laboratories
Television Host and Designer, Discovery Network's Hacking the Wild
Quitmeyer is a hacker adventurer studying intersections between wild animals and computational devices. He left his job as a tenure track professor at the National University of Singapore to start his own field station makerspace, Digital Naturalism Laboratories (dinalab.net), in Gamboa, Panama. There, he blends biological fieldwork and DIY digital crafting with a community of scientists, artists, designers and engineers from around the world and runs mobile workshops called "Hiking Hacks" where participants build interactive technology in outdoor, natural contexts. The Digital Naturalism Conference (dinacon.org) is his largest annual event, during which 100 participants from all fields collaborate to find new ways of interacting with nature. Quitmeyer's research also inspired a spin-off international television series for Discovery Networks called Hacking the Wild. He is the winner of several design awards, and his transdisciplinary, multimedia projects have been featured on the Discovery Channel, PBS, NPR and the Cartoon Network and in Wired, Make Magazine, Fast Company and Gizmodo, along with other print and digital internet news and educational sources. Quitmeyer earned dual bachelor's degrees (industrial engineering and film production and theory) from the University of Illinois, Urbana-Champaign, and a master's degree and PhD (digital media) from Georgia Institute of Technology.
Lecture: "Wild Labs for Wild Interactions"
Your tools shape how you understand and interact with the world, but they also take on characteristics of the environments in which they are developed. We will discuss the development of in-situ jungle laboratories for scientific and artistic tools and explore how technology developed in harsh environments differs from that developed in more traditional laboratories. In short, the technology you use is very much alive and evolving; we need to find ways for our tools to join us in exploring nature as peers instead of as conquerors.
Workshop
Join Quitmeyer for an outdoors Mobile Wet Lab workshop prior to the lecture from 1:15 to 4:15 p.m. Please email Rachel Mayeri, professor of media studies, at mayeri@g.hmc.edu if you are interested in attending.