Music at Harvey Mudd College 2014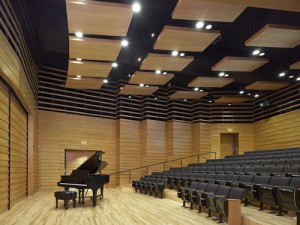 Announcing the inaugural concert series to be held in the new Wayne '73 and Julie Drinkward Recital Hall at Harvey Mudd College.
All events are free and open to the public. No tickets or reservations are required. For more information, call 909.621.8022.
Street parking is available along Foothill Blvd. See the Drinkward Recital Hall location map.
Tuesday, April 22, 8 p.m.
Senior Recital
Jonathan Williams (HMC '14) Music Composition Recital
Music for piano, choir, percussion, and string quartet
Saturday, April 26, 8 p.m.
MicroFest: In Honor of the Divine Mr. H
The dulcet tones of LA's Just Strings ensemble joins the gongs of the HMC American Gamelan presenting world premieres by the extraordinary Lou Harrison, including his masterful In Honor of the Divine Mr. Handel for harp and gamelan. Also, works by Bill Alves and John Luther Adams.
Wednesday, May 7, 8 p.m.
Jazz Improvisation
Thursday, May 8, 7 p.m.
Student Recital