Transverse Pulses and Waves – 3B10.00
Pulse on a Rope – 3B10.10
A long rope runs the length of two lecture benches.
One end is attached to a support Rod and the other end to a pulse generator.
Vary the tension to vary the speed of the pulse.
Location: Demo Room
Wave Model by Wave Machine – 3B10.30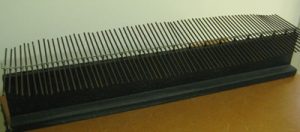 Thin rods are mounted on a fine wire that twists easily;
Displace the rod at one end to create a torsion pulse or wave.
Location: Demo Room