Resonance in Plates, Bars, Solids – 3D40.00
Singing Rod – 3D40.20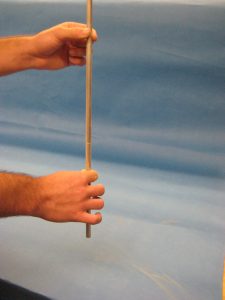 A long aluminum rod will sing when it is stroked along its length with rosin and supported at its center.
Find the center by balancing the rod on your finger.
Rub some rosin on your free hand and vigorously stroke the rod.
You will need to squeeze hard. Also try holding the rod at a point 1/3 or ¼ of its length to excite higher harmonics.
Location: Jacobs B122 – Shelf 286
Chladni Plate – 3D40.30
A square plate is clamped at its center.
Sand is sprinkled on it and place is excited with a mechanical vibrator and a frequency generator.
The sand will show the nodal lines of the excited pattern.
The pattern will change depending on the frequency applied to the mechanical vibrator.
Location: Jacobs B122 – Shelf 263
Shattering the Beaker/ Wine Glass – 3D40.55
Laboratory beakers or wine glasses are shattered in a chamber when large amplitude sound at the resonant frequency is directed at a beaker or a wine glass.
Location: Jacobs B122 – Shelf 283