Air Column Instruments – 3D32.00
Organ Pipes – 3D32.10
There are metal organ pipes of several different lengths with plungers to vary the lengths of the tube or caps for an open or closed pipe.
Location: Demo Room
Variable Pitch Whistle – 3D32.15
Blow in the mouthpiece and slide the piston to vary the pitch
There are note and cm markings on the piston shaft
Adjust the mouthpiece position to change the note register. You may have to slide it around to get the notes to sound right
Location: Demo Room
Musical Pipes – 3D32.25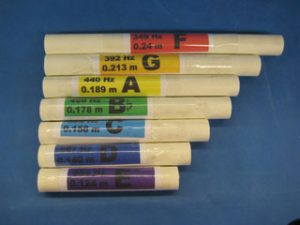 PVC tubes are cut to length as to resonate at a musical frequency.
The pipes are: F: 392 HZ (0.24m); G: 392 HZ (0.213m); A: 440 Hz (0.189m); Bb: 466 Hz (0.178 m); C: 523 Hz (0.158 m); D: 587 Hz (0.140m); E: 659 Hz (0.124m).
Hit the pipes on your palm and compare the notes to the length of the pipes.
Location: Jacobs B122 – Shelf 264