Driven Mechanical Resonance – 3A60.00
Tacoma Narrows Film/ Video – 3A60.10
Driven Cart Between Springs – 3A60.24
A PASCO cart is placed between two long springs.
The cart is driven by a variable speed motor.
Eddy current damping is used also.
Location: Demo Room
Resonance in Rods – 3A60.51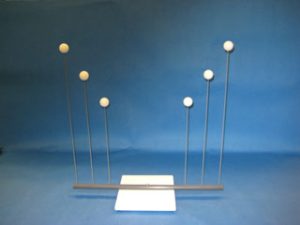 Three pairs of spring-steel wires are affixed to a horizontal rod.
A brightly colored mass is affixed to the end of each wire.
When any wire is "plucked", its equal-length counterpart of the opposite side of the device oscillates with large excursions while the other four wires and weights remain relatively motionless.
Location: Jacobs B122 – Shelf 284