Refractive Index – 6A40.00
Disappearing Beaker – 6A40.30
A large beaker is filled half-way with ordinary vegetable oil.
A small beaker is slowly lowered into the oil.
The beaker will "disappear" as it is lowered.
This is due to the fact that Pyrex and vegetable oil have the same index of refraction.
Location: Jacobs B122
Disappearing Ball in a Beaker – 6A40.31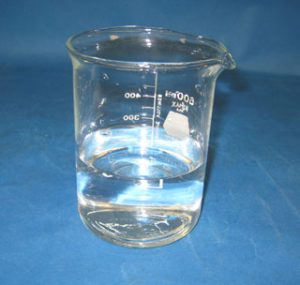 A beaker is filled half-way with water.
A gel ball is lowered in the beaker. The gel balls come in very small sizes.  They are soaked in water for 24 hours before they are used.
The ball will "disappear" in the water.
Location: Jacobs B122 – Shelf 264
Optical Properties of a Submerged Light Bulb – 6A40.40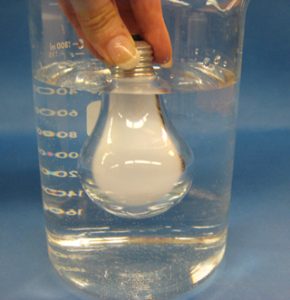 Submerge a 60 W frosted light bulb in a beaker filled with water.
The frosted part becomes smaller and the glass envelope becomes much larger.
The coating allows the inner glass surface to have total internal reflection.
Location: Jacobs B122  – Shelf 275