Transfer of Angular Momentum – 1Q30.00
Passing the Wheel – 1Q30.10
Tip the spinning tire half way and hand it to a student on a turntable
The student tips it another half way and hands it back.
Repeat until the spinning student is turning so fast for the hand off.
Add or subtract from the angular momentum depending on which way the wheel is tipped.
Location: Demo Room
Driven Torsion Oscillation- Indian Driller – 1Q30.12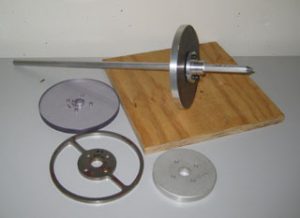 Indian Driller to show transfer of angular momentum.
Location: Demo Room