Centrifugal Escape – 1D55.00
Broken Ring on Overhead Projector – 1D55.10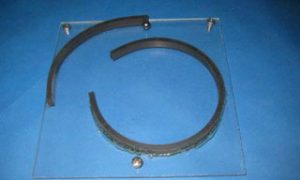 Place the ring near the edge of the table so that the ball will roll parallel to the edge.
Roll a steel ball around the inside of the ring.
Hold the ring securely while the ball is rolling around the ring.
Have the class vote which way the ball will roll when it reached the gap.
Location: Jacobs B122 – Shelf 286