Vortices – 2C50.00
Smoke Ring – 2C50.10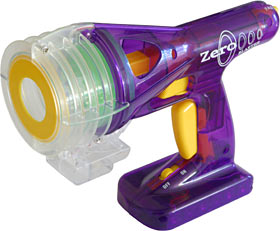 Fill tank with super Zero Fog Fluid
Gently hold in power lever until Light in fog chamber indicates Zero Blaster is on, wait 5 seconds.
Pull pump lever to fill fog chamber with fog.
Pull firing trigger back until plunger is released.
To make large fog rings push the Zero Blaster forward, about 12 inches, with a smooth constant speed.
Location: Jacob B122 – Shelf 275
Vortex in a Beaker – 2C50.31
Fill the beaker with water.
Place a magnetic stirrer in the water.
Put the beaker on a stirring plate.
Observe the formation of vortex in the beaker.
 Location: Jacobs B122 – shelf 264