Motors and Generators – 5K40.00
DC Motor – 5K40.10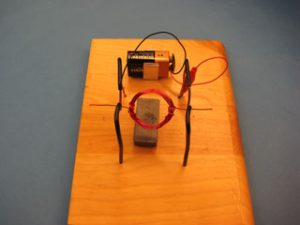 Place the battery between the uprights.
Place the coil in the bent sections above the magnet.
The coil should start spinning because each half turn the current is flowing through the winding and repelling off the magnet.
As it rotates the current stops but momentum will carry the other side on around until the loop again makes connection with the current from the battery.
Location: Jacobs B122 – Shelf 276
Hand Crank Generator – 5K40.80
Crank until the lamp shines.
Location : Demo Room