Producing Static Charge – 5A10.00
Electroscopes – 5A10.10
Rub friction rods PVC pipes and acrylic using fur, silk, or wool to give it a charge.
Glass rubbed with silk takes on a positive charge as the silk removes electrons from the glass. Amber becomes negatively charged as it strips electrons from fur.
Hold rod close to the electroscope receiver and watch the leaves separate.
Location: Demo Room
Electric Charge Detector – 5A10.11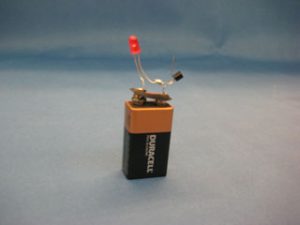 A simple electroscope that detects an electric charge and determines whether it is positive or negative.
It has a red LED and a transistor.
The gate wire of the transistor acts as an antennae.
Bring any statically charged item toward the apparatus and watch the LED.
Locattion: Jacobs B122 – Shelf 259
Static Electricity/Human Powered Light – 5A10.12
Hold on to the light bulb wires and walk across a carpeted area dragging the feet as you go.
A charge of static electricity is built up that discharges through the light bulb in the hand.
If enough charge is generated the bulb will glow in free air.
Location: Jacobs B122 – Shelf 259
Electrostatic Charges – "Fun Fly Stick" – 5A10.13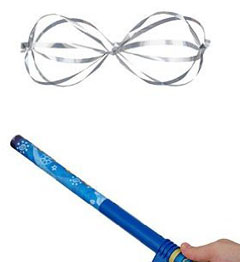 The "Fun Fly Stick" is like a mini Van de Graaf Generator. It accumulates charge on its shaft.
This charge can be transferred to a lightweight mylar films.
The mylar films come in an assortment of different shapes
Without any contact with the shaft, the mylar stays suspended in air.
Location: Jacobs B122 – Shelf 273