Electromagnetic Spectrum – 5N30.00
Projected Spectrum With a Prism – 5N30.10
White light is projected through a high dispersion prism and onto a screen.
Location: Jacobs B122 – Shelf 166
Microwave Transmitter and Receiver Optics – 5N30.30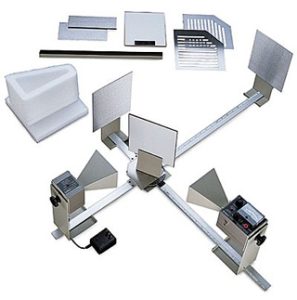 Aim the transmitter at the receiver so the horns line up, with the separation between the two about 30 cm.
Turn on the transmitter and the receiver.
Move the receiver closer to the transmitter by a short distance and notice how the signal changes.
Observe the maxima and minima of the wave.
Location: Jacobs B115