Eddy Currents – 5K20.00
Eddy Current Ring Pivot – 5K20.01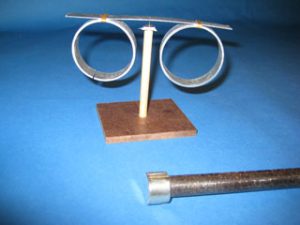 Push the magnet into the ring with the split, nothing happens.
Push the magnet into the other ring, the rings will begin to pivot away from the magnet.
Pull the magnet back towards you and the rings will pivot toward the magnet.
Location: Jacobs B 122 – Shelf 281
Eddy Current with a Strong Horseshoe Magnet – 5K20.10
An aluminum plate is passed through a strong horseshoe magnet.
Location: Demo Room
Magnets in Eddy Tubes – 5K20.25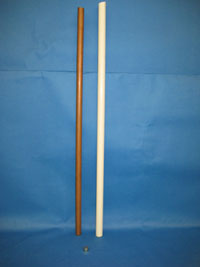 Drop magnets simultaneously down the copper and PVC tube.
The magnet falls through the PVC pipe with no resistance.
The magnet falling through the copper tube takes much longer time to fall.
Location:Jacobs B122 – Shelf 276 and Demo Room
Jumping Ring – 5K20.30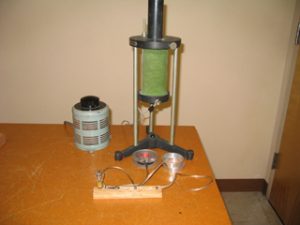 Two aluminum rings are placed around the core of a coin. One ring has a gap.
The apparatus is connected to a variac.
With a ring in place, turn on the switch. The solid ring will jump.
Replace with the ring that has a gap and it will not jump.
Place a coil with bulb attached over the core and note the variation in bulb brightness with position of the coil.
Cool the metal ring with liquid nitrogen and get really a great jump.
Location: Demo Room