Electric Field – 5B10.00
Hair on End – 5B10.10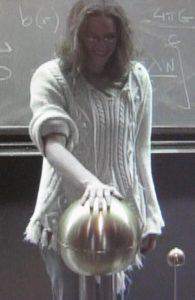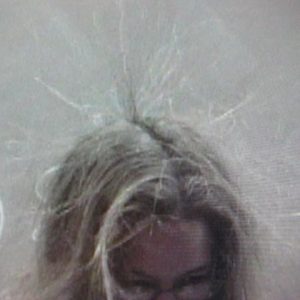 Remove pointed metal items such as keys and microphones.
Stand on the insulated stool.
Turn the power on the Van de Graaff.
Hold a pointed probe against the sphere.
Place your other hand on the sphere before removing the probe.
Do not remove your hand and stay away from anything metal.
Allow yourself to charge up. Fine, clean, dry hair stands on end the best.
To discharge without shocks, hold pointed probe against the sphere, remove other hand and turn off motor.
Location: Jacobs B122 on a cart
Electric Field Lines – 5B10.40
A pan filled with mineral oil is placed on an overhead projector.
Iron filing is sprinkled into the oil.
Different electrodes are inserted in the oil which and are attached to a Van de Graaff generator.
The iron fillings will align in the direction of the electric field.
Location: Jacobs B122 – Shelf 265