Gravity Well – 8B40.00
Gravity Well – 8B40.50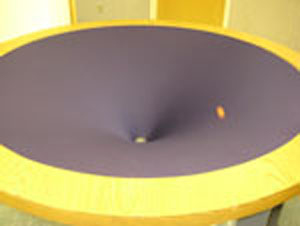 Roll a ball in the gravity well so that it moves in a circle near the top.
Observe the ball rolling in circles as it slowly drops down into the gravity well.
As the ball drops lower into the well it goes around the circle in a shorter time.
When it approaches the center of the well it zips around so fast that it becomes a blur.
Roll two balls at different positions and observe the relative velocities.
Location: Jacobs B122