I. Engagement: How to Get Involved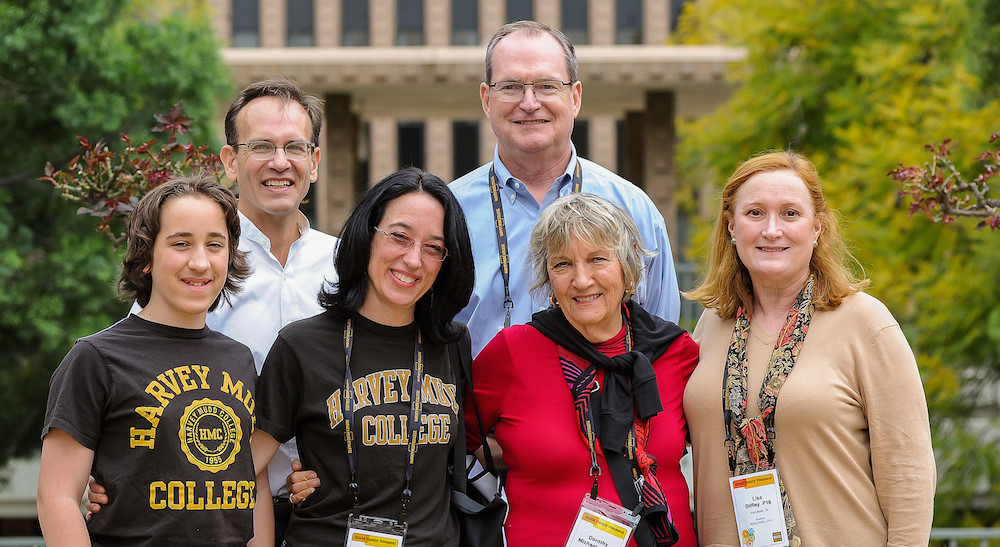 a. Campus Events
Parent Leadership outreach to Admitted Families
Contact admitted families and answer questions about Harvey Mudd College.
Parent Leadership "Welcome" Outreach to First-Year Parents
Contact First-Year Parents and welcome them to the Harvey Mudd community
Claremont Summer Send-Off: July 30, 2015
Parent Orientation: August 26–27, 2015
Opportunity for first-year parents to learn about the resources offered on campus and get to know administrators who can offer assistance to their student.
Family Weekend: February 19–20, 2016
Opportunity for parents to meet faculty and staff and visit with their student.
Admitted Student Weekend: April 2016
Current parents are invited to speak and meet with admitted families to answer questions and help parents understand what makes Harvey Mudd unique.
Projects Day/ Presentations Day/ Clinic: May 2–4, 2016
Listen to parents give a presentation on how they have impacted or helped students with a clinic program. Parents can view and listen to student presentations on current projects.
Commencement: May 15, 2016
Senior parents gather to celebrate their students' success and learn ways to continue their involvement with the College.
b. Regional Events and Hosting Opportunities
Host a Summer Send-Off Party
Welcome first-year parents to the Harvey Mudd community
Student Holiday Sponsor
Host students during holiday breaks
Student Summer Internship Host/Housing
Open your home to students who are doing an internship in your area
Host an Event during College breaks
Local parents and students
c. Parent Services and Resources
Yahoo! Chat Group Moderator
Monitor information and filter important issues/questions to the College
Admitted Families Facebook Page
Answer questions from admitted parents
Happy New Year card/reminder for Family Weekend
Happy New Year card encouraging Family Weekend attendance
Athletics Schedules and Regional Events
See CMS Athletics for other dates/times to see Mudder athletes.
Swimming and Diving
February 19-22, 2015
@Caltech
(Commerce, CA)
SCIAC Championships
Men's Basketball
January 24
@Pomona-Pitzer
Vs. Pomona-Pitzer
February 17
@Pomona-Pitzer
Vs. Pomona-Pitzer
Women's Basketball
January 24
@Pomona-Pitzer
Vs. Pomona-Pitzer
February 18
@HMC
Vs. Pomona-Pitzer
Baseball
January 31
Alumni Game
February 13-14
@CMS
Vs. Pomona-Pitzer
Softball
January 31@CMS
Alumni Game
M&W Golf
March 13-15, 2015
@Collegiate Invite
(Jekyll Island, GA)
April 26-28, 2015
@Oak Valley GC
(Beaumont, CA)
SCIAC Championships
Men's Tennis
February 14
@CMS
Ducey Cup Alumni Match
March 6-7, 2015
@Pacific Coast Doubles
(La Jolla, CA)
March 17-21, 2015
@Spring Break Trip (Philadelphia/DC)
May 1-2, 2015
@Caltech
(Pasadena, CA)
SCIAC Championships
Track and Field
February 7
Alumni Classic
April 4
@UC San Diego
(San Diego, CA)