Recent Scholarly Activity
Introduction to a Book
Introduction to Beginnings of a Dream, short story collection by Zachariah Rapola (Johannesburg: Jacana Media, 2007).
Journal Article
"Exile and Longing in Abderrahmane Sissako's La Vie sur terre", Screen, Volume 48, Number 4 (2007): 443-461
Book Reviews
"Historians at the Movies." Review of Black and White in Colour: Africa's History on Screen. Edited by Vivian Bickford-Smith and Richard Mendelsohn (Athens: Ohio University Press, 2007). H-SAfrica. H-Net Reviews, May, 2008.
Africa's Hidden  Histories: Everyday Literacy and Making the Self. Edited by Karin Barber (Bloomington: Indiana University Press, 2006). The International Journal of African Historical Studies, Volume 40, Number 2 (2007): 330-332.
A History of South African Literature. Christopher Heywood (Cambridge: Cambridge University Press, 2004). The International Journal of African Historical Studies, Volume 39, Number 1 (2006): 140-142.
Documentary Film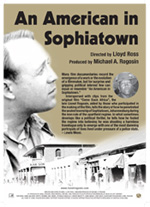 Featured in Lloyd Ross's documentary An American in Sophiatown (2007) as film historian. Wrote inter-titles for the film that serve to contextualize the history of apartheid for an international audience. The documentary premiered at the American Film Institute International Film Festival in Dallas in March 2007. It was also screened at the Bologna Film Festival, Italy, in the summer of 2007. An American in Sophiatown is to be included in the release of the newly restored DVD version of Lionel Rogosin's Come Back Africa(forthcoming).
Photography
Front cover photograph for the American Anthropological Association Anthropology News, Volume 48, Number 2, February 2007.
Teaching 2007-2008
Media Studies 173, "Exile in Cinema"
Literature 155, "Post-Apartheid Narratives"
Literature145, "Third World Women Writers"
Literature/Media Studies 103, "Third Cinema"
Literature 144, "Poe Goes South: The Fantastic Short Story in Latin America"
Books