Farewell from the bloggers
May 7, 2021
Today is the last day of classes at Mudd! Even as our bloggers are busy preparing for final exams and summer plans, they have some time to reflect on the 2020-21 school year.
Amber
I've done it! I've survived my first year in college! In all seriousness, the transition from high school to college has been a lot different from what I, or any other frosh anticipated. At times, it felt very much like we were thrown into a pool and forced to sink or swim. But I'm really grateful for all of the people and resources who have helped me at Mudd. They've been a sorts of "floaties" for me, giving me academic and moral support to keep my head afloat. And so, coming to the end of the semester, I'm excited to take a summer to relax and enjoy life. However, I'm someone who constantly loves to do things, so I'll be taking a summer course (Intro to Science, Technology, and Society), volunteering with the STEM outreach program "ProgramHers," and mentoring in the SI program. But, while I'm not doing that, I'll be camping with friends, exploring new trails to run on, training for Cross Country, and hitting the beach as often as I can.
Kenneth
There's a lot of words I could use to describe this past year. And I'm sure many of you can relate to most of those words I would use. So, to focus on the positives: I lived on my own for the entire year; I completed a full year at Mudd (no small feat); I've made what I consider (and hope) to be life-long friends; I made some amazing memories in some amazing places (see picture); and after triumphing over finals week, I'll be spending my summer on campus, researching ants! My favorite part of this working in admissions has been talking to prospective students, everyone is just so lovely and I can't wait to see them on campus someday. So: thanks for being great people (everyone), now let's recover together.
Malia
This semester has been very different from anything that I expected to experience during college. I have been back in my hometown, living with two other Mudders in an apartment, and attending classes via Zoom. Despite that, this semester has also contained very normal things. I picked a major (computer science!), competed in (online) trivia games, and spent a lot of time having fun with my friends. Even though everything was online, I remained active in the Living Learning Community, which hosted social justice events throughout the semester; and tutored in both the physics and computer science departments. I am excited for this summer, when I will be doing remote research with Mudd's HEATlab!
Andy
This semester was a bit of a whirlwind for me, but still had a lot of genuinely enjoyable and rewarding experiences. I've been staying with four other sophomore Mudders in Orange County, which has been a really nice change of pace from being at home and provided a lot of fun times (pictured below; I'm in the middle). My first semester after Core has also given me the opportunity to explore some of my academic interests more deeply, both through my courses and via extracurriculars and independent studies. After surviving finals week, over the summer, I'll be in the San Francisco Bay Area doing a software engineering internship at Facebook, after which I'll hopefully be returning to campus to see some of you! Until then, take care, everyone 🙂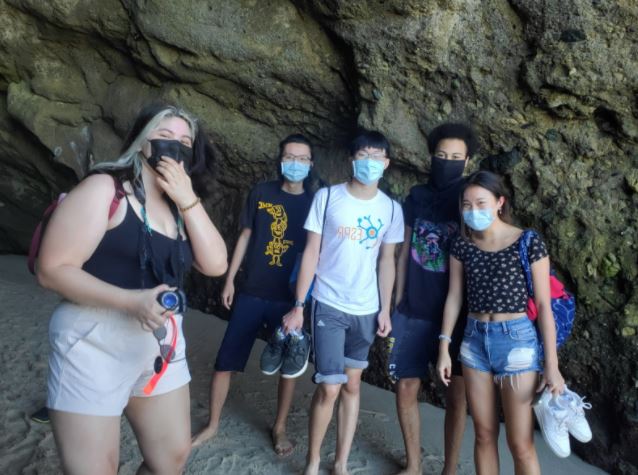 Andrea
What a time! I am officially on my way out. On May 16th, 2021 I will be graduating from Harvey Mudd College. It has been a pleasure to be here (in-person and otherwise) and I would not trade it for the world. In the fall I will embark on a four month trip to live and volunteer in Tanzania. I will be working with a STEM outreach organization, ProjeKt Inspire, on increasing career development support for youth and working to improve STEM equity and education around the world. After that, I will begin my job as a systems engineer at Northrop Grumman in Southern California. So, catch me at the eventual Class of 2021 in-person graduation on campus and many more alumni weekends to come. Working for the Office of Admission has been a blast and I sure hope that we are able to provide a window into life at Mudd that helps you make the best decisions for your future. Cheers!