Sophomore Retreat 2021
March 9, 2021
In a normal year, the weekend before the spring semester starts is marked with a collection of the sophomore class getting together with deans from the Division of Student Affairs and heading up to the mountains for some bonding activities (for an idea of what that looks like, here's a blog post from 2016!) Obviously, given that we are not on campus this semester and in person activities are dangerous, that couldn't happen. However, there was a virtual retreat.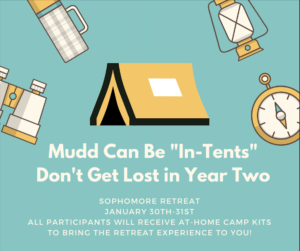 They mailed every sophomore who signed up a lovely box full of goodies, including candy, s'mores makings, a cool t-shirt, painting supplies, and a canvas with paints!
The retreat itself was split up into several different sections, all of which happened over Zoom. There were sessions led by the Office of Institutional Diversity, the Career Office, and the Office of Health and Wellness.
We also did an online ropes course, which was very interesting. Typically, the ropes course would be very physical and include trust building exercises. It's not possible to climb ropes virtually (unfortunately…) but we did several logic puzzles that required careful communication and teamwork skills. It ended up being super fun!
Other activities included a "S'more Learning with Seniors," a Paint Night, a Core debrief, and lots of icebreaker activities with the other sophomores. Overall, the goal of the retreat was to extend some of the things we originally talked about at Freshman Orientation (like conflict management skills and resources available at Mudd), while helping us build community and move into the next phase of our Mudd experience. I had a great time, and would definitely recommend it to future sophomores!