Summer 2016: Research
September 19, 2016
As junior Mudd engineers, we are in the midst of the E80 series. Ranging from E82 Chemical and Thermal Processes to E86 Materials Engineering, we receive a broad, yet in-depth, technical education that upholds the definition of our general engineering degree. Each semester, we take electives or join research teams that help us find the specialized areas of engineering that we're more interested.
This past summer, I stayed on campus for two months to conduct biomedical engineering research as an Engman Fellow. The lab focuses on tissue engineering.
I work on the Brain Patch project. We aim to build a Brain Patch for patients of traumatic brain injury (TBI). The patch is made of malleable collagen gel and infused with chitosan nanoparticles. Chitosan is a derivative of chitin, harvested from shrimp shells, and past literature suggests it may exhibit anti-inflammatory and anti-bacterial properties. This summer, each sub-team of the project worked on verifying the viability of that component of the Brain Patch. I worked on the Scratch Wound Model: evaluating how effectively adult rat astrocytes (brain cells harvested from adult rat brains) respond to different parts of the Brain Patch.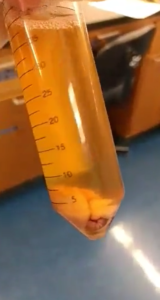 Andrew Marino '17 and I worked on the Scratch Wound Model, where we cultured cells from adult rat brains and tested out components of the Brain Patch on them. The rat brain in the picture is still whole; to harvest the cells, we "blend" the brain with pipets and then evenly distribute the cells in a plate, letting them grow in the incubator for approximately one week. Unfortunately, we had plenty of issues: contaminated cells – bacteria, yeast, possibly mycoplasma, low carbon dioxide levels in the incubator, an air filter in the incubator that needed changing. Nothing worked right the first time. That's science (and life, I suppose): nothing is guaranteed to work in your favor.
Summer wasn't all just lab work. I got to know everyone in the lab through bonding activities ranging from workshops at the Hive on making a research poster to baking at Prof. Orwin's house for Lab Open House.
The 10 weeks of summer research went by so quickly. I feel like I was just getting settled in the lab. I'm excited to continue research with Prof. Orwin this semester, and further progress on the Brain Patch project!