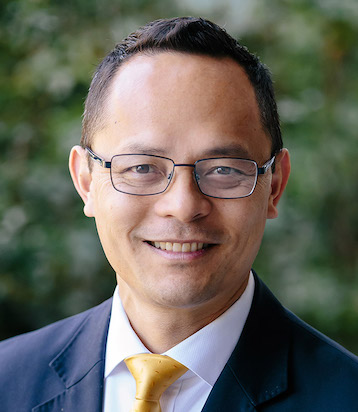 As vice president of advancement, Hieu Nguyen leads the Office of College Advancement, which includes Annual Giving, Major Gift, Planned Giving, Stewardship and Events, Research and prospect Management, Alumni and Parent Relations, Advancement Services and Communications and Marketing.
Professional Background
Prior to joining Harvey Mudd College in 2019, Nguyen served as executive vice president of the University of California, Riverside Foundation and associate vice chancellor for development.
Before that, Nguyen served as associate vice president for development at Bowdoin College in Brunswick, Maine, where he managed all aspects of leadership gifts, annual giving, athletics fundraising, stewardship programs and development research. He has served as assistant vice president for college advancement at Bates College in Lewiston, Maine, and as assistant director of leadership gifts/senior development officer for Middlebury College in Middlebury, Vermont. Before joining academia, Nguyen worked in industry as assistant director of manufacturing/applications engineer for Qualcomm and as executive director for co-location/dedicated hosting and enterprise sales for Burlee LLC.
Education
Nguyen attended Middlebury College, where he earned his B.A. in American civilization and was an All-American goalie in lacrosse for his alma mater.
Additional Information
As a first-generation college graduate who immigrated to the United States with his mother and grandmother in 1975, Nguyen said his exposure to learning, the importance of scholarship, and the influence of an outstanding education have helped shape his values and strengthen his relationships with others.
During his time at UCR, Nguyen worked with the chancellor, deans, and vice chancellor for university advancement to manage the university's overall advancement efforts and to publicly launch the university's first $300 million comprehensive campaign. Private philanthropic support more than doubled during his time there, across seven school- and college-based development programs including the schools of medicine and business as well as engineering, natural sciences, agriculture, humanities, arts, and social sciences.
Contact Information
Hieu Nguyen
Vice President for Advancement
909.607.7069
htnguyen@hmc.edu